9 Important SEO Tools That Help to Improve Website Ranking
Have you been struggling to decide which of the top SEO tools to use to identify the most appropriate SEO techniques for your websites?
We'll answer this question by presenting you with a list of the 9 most crucial SEO tools that can significantly boost your website's ranking.
Why Is SEO Important for Website Ranking?
SEO is the most important tool that has a significant impact on a website's ranking. SEO has an impact on the entire website, which is why we consistently utilize the best SEO strategies to increase the credibility and engagement of our website.
Its primary goal is to boost your website's online visibility, which can only happen if your website ranks higher on search engines. This is what motivates you to implement effective SEO tactics on your website.
Why Should You Use Tools?
While performing Search Engine Optimization activities, it is critical to keep every aspect in mind. Because we are human, we occasionally forget crucial rules, which is why they have created a variety of SEO Tools.
For the most productive outcomes on their website, one can choose between the ideal options available.
Besides that, you can always save time if you use tools. They can work more accurately than anyone doing it manually. Time-saving can be another benefit you can get while using tools.
9 Important SEO Tools That Help to Improve Website Ranking:
Here is the list of the most important SEO Tools that can help you improve the ranking of your website. You can use any of them for performing all sorts of SEO functions. You can completely rely on them as they work best for you.
Semrush SEO tool is best known for keyword research. Keywords play a crucial part in maintaining web traffic and SEO. This tool helps you a lot with the data of how many people use similar keywords or terms. 
It can give you a brief outlook of any keyword you want to use. By going through all the details, you will choose the best options available for your website.
It also helps you with Competitors' details like what can be the competition if you use this keyword. What are their strategies, their traffic, etc.
This tool can help you with keyword research and will consume less time in doing that perfectly. You can know which keyword will be best to use and how will it perform for your particular website's ranking.
Features:
You can perform keyword research to find your desired keywords.
You can perform competitive research to easily access the amount of competition and traffic any keyword holds.
You can gather all the necessary details about the ON page and Tech SEO.
You can also perform all the functions related to Link Building on the Semrush tool very easily.
Price:
You can use the trial for free but for further use, you'll need a premium account. You can choose the best available plan for you.  
Google Search Console is a tool that helps you know the view of google about your website. This tool provides you with an ultimate variation of SEO tools for optimization purposes. 
You can use this tool to know any error that occurs also provides you with a solution. 
Not only errors it also provides you details about back linking and keywords searches related to your site. 
It helps you detect viruses and malware that may occur on your website.
It helps you engage in organic traffic so that you can enhance your web ranking.
Features:
You can access the information about how your website performs on Google.
It manages to tell you what keywords are used to reach the website.
It allows you to reduce errors and detects the presence of malware on the website.
It helps you manage backlinks on your websites.
Price:
Anyone can access this tool for absolutely free. It costs nothing and is a free tool.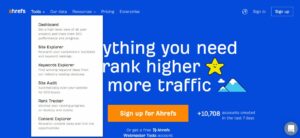 hrefs is a webmaster tool that means it offers you numerous functions and operations for your website. You can perform all sorts of data analysis and optimization techniques using this tool.
It offers you all the specifications in the same package of subscriptions.
It provides you with an Ahrefs academy for the enhancement of knowledge about the website.
You can keep track of all the projects you're working on very smartly by just maintaining your dashboard.
It can be really helpful for you to access data by using this tool.
Features: 
You can use the Site Explorer tool to research all the backlinks and keyword rankings of your competitor's website.
You can use the Keywords explorer tool for finding the best keyword idea from the industry's leading database.
You can use the Site Audit tool for automatic scanning of your website's SEO issues and errors.
You can use the Rank Tracker tool to monitor the progress of your website's ranking through your desktops and mobiles as well.
The Content Explorer tool helps you generate the content ideas and the links for opportunities for the content for your website.
Price: 
The Ahrefs plans and pricing includes four packages. You can choose the best one that suits you. Also, you can access the free trial before subscribing so that you can satisfy yourself.
MOZ Pro is another one of the best tools for SEO techniques. It helps you manage all the necessary actions regarding the optimization of the page or website. It helps you research the keywords as well as domains.
It helps you use the best keywords with low competition so that you can increase your web ranking.
It helps you with all the SEO techniques for your website.
You can access the details about your competitors and the strategies and keyword techniques they are using to rank higher.
The best thing about Moz Pro is that this tool provides you with a chrome extension. You can access information related to each website you visit comfortably.
Key Features:
 Link Explorer Tool: To explore the powerful backlinks data for SEO as well as to find anchor text and spam scores of any website.
Keyword Explorer Tool: To discover the best keywords that attract traffic to your website.
Competitive Research Tool: To help you conduct competitive intelligence for uplifting your SEO strategy on your websites.
Domain Analysis Tool: To access top and competitive SEO metrics like domains for your website.
Price:
The pricing for the subscription comes with 4 different packages. Each package includes different options and features. You can choose which best suits your SEO needs.
Answer The Public is another free SEO tool that is used mostly to find the topic on which you should write the blogs. It helps you with content creation that ranks higher by providing a keyword too. You can use this tool to find any topic it could be about any niche.
It can be used for Content Marketing to promote or create your content.
You can use the SEO services that will boost your website rankings 
Features:
This SEO tool helps you determine the best appropriate keyword for your content by saving your time.
It helps you attract more organic traffic by discovering unexpected keywords that can boost the website.
It helps you determine the searches related to any specific niche fast and efficiently.
It helps you know user intentions so that you can create super-relevant content.
Price:
You can use it for free but if you want to access all the features then you need to go for a pro version. It provides you with three options. It can be Monthly, Yearly, or Expert. You can choose accordingly.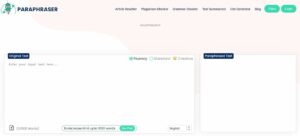 Paraphraser.io is the best tool available online. It is all in one package for users. You can access all the features for developing your content that automatically led to better engagement of your website.
It can help you in developing reliable content for your website.
It is known as the multi-tool site as it provides numerous features in a single site.
 Feature:
Article Rewriter: This tool helps you create accurate and smart content for the website. It helps you paraphrase your content which is an essential part of SEO techniques.
Plagiarism Checker: It is another most important SEO technique to avoid plagiarism. You can avoid it by using this tool smartly. 
Grammar Checker and Text Summarizer are the incredible features provided by this tool. You can use Grammar check to improve the sentence structure.
Text Summarizer is used for shortening text or words, which most of the time gets difficult manually. This helps you create SEO-friendly content for your website.
Cite Generator helps you with referencing and adding a citation to your content which means you can never doubt having plagiarized content on your website.
All the above tools help you create quality content and help you improve the website ranking super effectively.
Price:
The best thing about this tool or you can say the biggest PRO of this tool is that it cost minimal for the monthly and yearly premium plans.
DreamHost SEO:
DreamHost SEO is one of the most used SEO tools by users. The SEO Techniques provided by this tool are incredible and can-do wonders to the ranking of your website. 
The very first thing on this website will be the website audit. It identifies the current situation of SEO on a website.
Accordingly, they customize the checklist to be followed for improvement in the website rankings.
It also helps you track your competitor's details and data.
Features:
It helps you perform an audit to determine what can be problems affecting the SEO of the website.
Having access to the fixes and solutions to the determined problems.
 Keep track of the progress of the SEO performance on your website.
Helps you increase organic traffic on your website.
Price: 
ou have to spend $4.99 per month for having access to DreamHost SEO Tool Kit and $2.59 for accessing shared starter hosting of the website. 
Google Ads Keyword planner is known best for keyword-related research. It works best for getting information about the keyword getting amount of traffic and which keyword should be used for particular websites. 
It helps you determine the search volume of the keyword so that you can have a clear picture of which keyword to use.
The best part about this tool is that it works under Google which means they estimate everything according to Google's search engine.
Key Features:
You can research comparative keywords according to your niche.
The competition of the particular keyword can be determined easily.
Price:
As you already know, almost all Google tools are free of cost. The Google Ads Keyword Planner tool is also free to use.
YoastSEO:
One of the best kinds of all time in SEO specifications is none other than YoastSEO. It is the WordPress SEO plugin that is widely used by developers. It is a user-friendly tool that helps you a lot with perfect SEO strategies.
It works best for Keyword optimization on your page.
You can also get an incredible feature of assistance of your content on how you can manage your content to rank it higher on Search Engines.
It is best used for internal linking while writing on any niche.
Features:
You can set up a solid internal linking structure with the help of internal linking tools.
It is amazing at time-saving, saves way more time than anybody doing it manually.
To be confident about good posts in search results of your websites.
Get integration to the powerful platforms anytime anywhere.
Price:
You can access it for free but for additional features, you need to subscribe to the premium plan for $99. They offer you 24/7 help if you have access to the premium version.
Bottom Line:
I hope we cleared your queries and this blog was informative for you. These were the most demanded 9 important SEO tools that help to improve the website rankings.
By using any of the above tools you can add a boost to your website's traffic and engagement. Automatically will rank higher on pages.